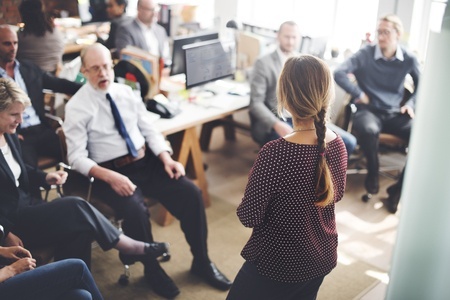 What is a 360 degree leadership assessment?
A 360 degree leadership assessment is a form of feedback for leaders in which their skills, effectiveness and influence as an executive, leader or manager are evaluated. With this sort of evaluation, the leadership in a company receives feedback from a set of colleagues.
You find yourself in a leadership position and, as any good leader, you want to grow and improve and you want your organization to grow and be successful.

You understand that if you, as a leader, don't keep growing then your organization won't keep growing. So, you've committed to developing yourself and/or other leaders in the hopes that it will benefit your company.
Using 360 leadership assessments is one of the best ways to develop leadership within your organization. But before we define just what 360 assessments are, let's discuss leadership development in general a little further.
What is one of the best ways to grow as a leader?
One of the best ways to grow as a leader is to receive a 360 evaluation about your performance and productivity in your capacity as leader. Research shows that, contrary to popular belief, asking for feedback from others in the organization is strongly correlated to a leader's overall effectiveness.
In fact, the top-ranked leaders in terms of effectiveness were also ranked in the top 10% in terms of their willingness to ask for feedback. Conversely, the leaders who ranked the lowest in terms of effectiveness were also ranked in the bottom 10% in terms of effectiveness as a leader. This shows just how much your openness to receiving feedback is linked to your effectiveness as a leader.
What are some of the problems with receiving feedback about your performance as a leader?
One problem that arises is that your organization may be set up to only administer assessments in a traditional, top-down manner, from supervisor to employee. This is often presented as a 360 performance review or an end-of-year review.
The problem with receiving feedback from a supervisor is that it's a biased, one-sided perspective. There is so much that a supervisor misses in terms of your influence and effectiveness as a leader.
There is another possible problem with receiving performance feedback using the traditional assessment model when you're the executive. Under this model, you're at a loss if there's no one above you to give you an evaluation. In this scenario, you could be left with no feedback. This can also lead to a third problem.
The third potential problem is the ability to obtain a fair and honest evaluation when you're the executive. The reality is that the "higher one rises in a company, the less honest feedback one receives."
Unfortunately, the higher a leader is positioned, the more likely individuals only say what they think the leader wants to hear. This, in turn, limits your ability to grow because you're not receiving honest feedback about your strengths, weaknesses and areas you need to grow.
Instead, you need a means of obtaining feedback that is honest, fair and well-rounded. This is where 360 degree leadership assessments come in.
What is a 360 degree leadership assessment?
A 360 degree leadership assessment is a form of feedback for leaders in which their skills, effectiveness and influence as an executive, leader or manager are evaluated. With this sort of evaluation, the leadership in a company receives feedback from a set of colleagues.
These colleagues are considered your professional peers and report at your level and perhaps a step higher. They may report to the executive officer, your boss, possibly your boss's supervisor and several of your peers.
Click here to see a sample 360 assessment
What a 360 degree leadership assessment is not?
It's important to note that a 360 degree leadership assessment is not the same thing as a 360 degree employee assessment. The meaning, process and outcome of the assessment is significantly different when dealing with leadership. With the 360 degree assessment, an employee receives feedback from all stakeholders who work with them – supervisors, colleagues, peers and possibly clients – which gives an all-around perspective.
However, different from the employee receiving the 360 degree feedback, the upper-level supervisor receiving the 360 degree leadership assessment isn't evaluated by their general colleagues or their subordinates. They tend not to be evaluated by their customers or clients either.
Also unlike an employee's 360 degree assessment, an upper-level manager's leadership assessment is often not shared with anyone else aside from the leader who was evaluated. In the case of the leadership assessment, the results go only to the executive.
What are some of the competencies that 360 degree leadership assessments measure?
This type of leadership assessment strives to evaluate an executive's leadership skills based on a series of competencies that are common to most effective leaders. These competencies may include:
Executive's strengths
Areas of improvement
Formal and informal/individual and organizational communication
Inclusiveness
Managing self/self-regulation and the ability to deal with problems
Composure under pressure
Listening skills
Offering helpful feedback and effective coaching
Readiness to ask for input, ideas and advice
Effectiveness in motivating others
Controlling organizational flow and performance management
Planning and setting attainable and measurable goals
Problem solving
Ability to lead
No leader has all of these competencies as strengths, nor should it be expected. This is where a well-devised and -implemented leadership assessment can help executives understand their strengths and improvement areas. If implemented properly, a 360 degree leadership assessment can be extremely beneficial.
What are some of the benefits of a 360 degree leadership assessment?
The benefits of this type of assessment may include the following:
Increases in self-awareness
Solves the problem of receiving biased feedback from peers and subordinates who say only what they think their leader wants to hear
Addresses the issue of receiving one-sided feedback from superiors (if there are any)
Resolves the conundrum of having no one to evaluate the leader if they're the head of the organization
Can be a great tool for transforming and improving leaders, their teams and their entire organizations
Can improve an organization's culture and spirit
Is helpful in expanding the learning process for all employees
Increases trust between individuals and opens opportunities for crucial conversations in the future
If the assessment is executed properly and received well, the executive is sure to gain the respect of colleagues
Also if the assessment is done and received well by the executive, the effect is contagious. Colleagues and subordinates, and possibly superiors, take the cue and strive for continuous improvement
You should choose a leadership assessment that is in line with the roles and responsibilities of your leaders. A great way to ensure that your assessment is hitting the key areas is to opt for a customized leadership assessment.
Customized assessments work by combining a specific set of many core competencies in order to focus on the most important growth opportunities, leaving out the areas that are less relevant for your leaders and your organization.
Use 360 degree leadership assessments to help your leadership and your organization
Implementing this type of assessment will benefit your organization and your leaders (including you). When the evaluation is executed properly and the results are received with humility, respect and a willingness to grow and change, this feedback will assist you in growing personally and professionally. Take a chance and explore 360 degree leadership assessments and watch you and your organization grow.
360 Leadership Assessment Examples
When implementing a 360 degree assessment your organization needs to decide what characteristics, skills, aptitudes and attitudes you want to evaluate and, more importantly, grow in your employees. Knowing this will help in giving you a guideline for what to put in the survey.
Examples of 360 degree feedback and/or sample questions and comments can help greatly in designing the assessment. Following are examples of 360 degree assessment questions and comments as well as some concerns that this sort of feedback can address.
These examples are broken down according to broad categories depending upon character traits or work attitudes that your organization wants in its employees. These questions can be used for the lower-level employee and/or for the mid- to upper-level manager/leader. The phrasing of the questions may need to be adjusted to suit the specific position.
1. Character Matters
When looking at character, the survey must explore what sort of person the individual is. It has to go beneath the "facade." Here are some examples of the character traits the 360 leadership feedback process will illumine:
Attitude toward Innovation:
Does this person pursue innovation and novel ideas?
Do they seek out new knowledge, skills and aptitudes?
Do they reward others for taking risks and/or learning new skills and aptitudes?
Do they seek to grow?
Are they willing to take risks?
Do they encourage innovation and risk taking in others?
Do they encourage positive change in others?
Do they accept change in themselves?
Example: Helen Needs to Become Innovative Again
Helen is an upper-level supervisor who prides herself on being innovative and a forward thinker; however, the truth is that she's not as much as she used to be. Over time she ceased taking the risks she used to because she craves security. Unfortunately innovators tend to be disruptive thinkers who are willing to risk more than is "safe".
Helen's subordinates have seen this change and are frustrated by it. While she talks innovation and creativity, it's within a narrow box that allows her to remain comfortable.
A 360 leadership assessment would address this issue. With such an assessment, Helen's employees can voice in a nonthreatening manner how she's starting to stifle their creativity and innovation because of her unaddressed need for security.
In the 360 feedback session, the facilitator would share the perspective of Helen's employees. Here are some comments that the facilitator might give:
"We know that you pride yourself on being an innovator and forward thinker, that you want to be progressive and on the cutting edge of the industry."
"Your employees are starting to feel that they're not free to truly innovate and take risks. They're starting to feel stifled in their creativity."
"Over time, perhaps a fear of taking a risk set in, and that's okay. We want you to know that you're free to take risks here and allow your employees to take risks too."
Strength of Character
Does this individual know their own strengths and weaknesses?
Are they self confident?
Are they willing to stand in the face of opposition and do the right thing?
Are they on board with the company's vision?
Do they accept responsibility for their faults, errors and mistakes?
Interactions with Others
Does this employee encourage self confidence in others?
Do they take criticism and negative feedback well?
Do they help others to grow and become better?
Do they serve others?
Are they fair and unbiased in their treatment of others?
Are they respectful to others?
Are they respected by others?
Integrity
Are they honest and truthful?
Are they sincere?
Are their interactions straightforward and direct?
Can they be trusted with confidential and/or sensitive information?
2. Delving Deeper into Relationship with Others
Under "Character Matters," the subtopic "Interactions with Others" was listed. This can be explored much deeper with 360 degree feedback.
Treatment of Others
Are they just plain mean?
Do they belittle and denigrate others?
Do they take advantage of others?
Do they take credit for work done by their colleagues or those working under them?
Are they respectful to others?
Do they respect all people regardless of their race, ethnicity, gender identity, sexual orientation, religion and/or different abilities and handicaps?
Are they capricious and whimsical in their decisions and interactions with others?
Do others feel they have to "walk on eggshells" around them?
Conflict Management
Do they allow for healthy conflict among team members?
Do they start and/or stir up conflict among team members and subordinates?
Do they exacerbate conflict among team members and subordinates?
Are they conflictual themselves?
Do they work to resolve conflict among team members and between their subordinates?
Do they pit supervisors, colleagues, subordinates and/or clients against each other?
Communication Skills
Does this individual listen well?
Do they interrupt often?
Do they hear what is being said?
Do they distort what they've heard?
Do they change what they say?
Is communication with them frequent?
Do they communicate in a positive manner?
Do they express themselves well in writing?
Do they communicate well on a personal level?
Do they encourage you to discuss your personal life, ie: family, children, hopes, dreams?
Do they share with you about themselves?
Example: Rob Needs to Work on His Communication
Rob is an engineer at a local plant. He's not in upper-level management, but as an engineer, he does oversee the production of the assembly line. Whenever the corporate office wants a change in the operation of the line, it is up to Rob to design and implement those changes.
After he's done designing the changes, Rob has to communicate with everyone on the line about the changes. Rob gives a presentation of the changes replete with Power Point and charts, but he doesn't do well in his presentation. His supervisor ends up having to go back and re-present his presentation.
Rod will have to continue presenting in the future, so a 360 degree assessment would be helpful in helping Rob to grow. Some helpful comments are:
"Rob, you're a strong and necessary member of this team. As you know, your technical skills and accuracy in designing are unparalleled."
"However, as your work branches further out, you 'll have to spend more time giving update presentations to the line workers. Given this, it's important for you to hone your communication skills."
"You're probably aware of what we're going to say: Your verbal skills need a little bit of work. We have some tips for presenting to large groups of people that will help you to feel more at ease."
Leadership/Employee Management
Does this individual make sound decisions?
Do they take ownership of their decisions?
Are they willing to make hard decisions when they're for the best?
Do they use the time of others wisely?
Do they understand the consequences of their actions?
Do they mentor others well and teach them how to handle challenges on their own?
A Guideline To Implementing 360 Leadership Assessments
These are just some of the questions and comments that can be used with your 360 degree feedback. The right questions coupled with honest, insightful comments can provide a useful springboard for helping your employees grow.
Continued Reading: How Much Does A 360 Assessment Cost?
Want to learn more about 360 leadership assessments for your organization? Call Edge Training Systems at 800-305-2025 or read one of the following related articles: 
---