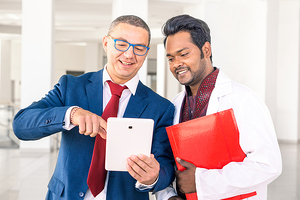 Hospitals rely on nurse managers and other administrative leaders to keep the facility running smoothly. To do their job properly, nurse managers and administrative leaders need to know where they're excelling and where they need improvement.
360 degree feedback assessments for hospitals provide this invaluable information to each individual leader and strengthens the facility as a whole.
What Are 360 Assessments For Hospitals?
The 360 degree feedback assessment for hospitals is an appraisal for nurse managers and other hospital administrative team members. It includes questions that determine the individual's skills, expertise, competencies, effectiveness, and weaknesses.
In a 360 degree feedback assessment, numerous people offer information about an individual. The individual's supervisor, nursing staff, colleagues, peers, ancillary staff, and even patients may complete the questionnaire. Additionally, the individual performs a self-evaluation.
The results of a 360 degree feedback assessment guide an individual's personal and professional development. The results from the comprehensive assessment also enhance short-term and long-term plans for the department and can affect the hospital's future growth and success.
Measuring Competencies With 360 Assessments For Hospitals
Nurse managers and hospital leaders do more than give orders. They perform a variety of duties and interact directly with staff and patients every day.
A 360 degree feedback assessment measures numerous competencies as well as behaviors and soft skills.
Expect thorough 360 assessments for hospitals to measure a manager's ability to do the following:
Set measurable and achievable goals
Achieve results
Communicate effectively
Listen carefully
Remain composed under pressure
Build trust
Make decisions decisively and accurately
Solve problems
Manage and adapt to change
Suggest innovations
Handle conflicts
Master negotiations
Encourage diversity and embrace inclusiveness
Motivate and influence others for good
Build, coach, and counsel a team
Cultivate satisfied and engaged staff members
Why 360 Assessments For Hospitals Are Important
Most organizations, including hospitals, need competent leadership. Nurse managers and other leaders direct staff, handle problems and make long-term decisions. If the leadership is moving in the wrong direction, the hospital will follow.
While an annual review and regular feedback are important for nurses and other hospital staff, managers and administrative leaders sometimes get left out and may not gain true feedback.
This oversight can occur for three reasons.
Subordinates and peers may be afraid to share honest input about their manager or administrator. They fear that an honest assessment could cost them their job, lead to other disciplinary actions, or create an adverse work environment.
Managers and administrators may not think to ask for feedback. Even though they are accustomed to providing staff with ongoing feedback, they may not take time to gain valuable insight that helps them change, learn, and grow.
Nurse managers and administrative leaders may genuinely resist change. They may avoid feedback and appraisals on purpose because they don't see a need for growth or wish to acknowledge their own deficiencies.
In all three of these scenarios, honest feedback, including constructive criticism, is essential. Comprehensive assessments encourage growth and equip leaders to understand the real issues they face, certify patient safety, and improve efficient hospital administration.
For these reasons, hospitals need a comprehensive and complete assessment system for everyone in leadership. It allows nurse managers and administrative staff to work to their full potential, and it provides checks and balances that ensure the hospital operates properly.
Commitment To Growth
The right leaders in management and administrative positions of authority demand personal growth. They aren't content to rest on their previous accomplishments or believe that they've arrived. They want to learn and grow, for their own personal development and to see to it that the hospital offers the highest level of care.
These managers generally feel confident in their abilities. They know that they're trained and prepared for their positions, and they welcome praise and critiques that can help them do their jobs even better. Rather than resting on their laurels, they push themselves and their teams to reach higher, do better, and continue to grow.
360 assessments for hospitals give managers the tools they need to improve, and their example of change prompts the entire staff to grow. This honest, straightforward, and corrective information enables managers to be the best leaders they can be as they guide their team to greatness.
To get the most out of the assessment, nurse managers and administrative leaders must display several traits, including:
View feedback as a beneficial tool for growth
Be open to discovering surprises about themselves
Refuse to take feedback results personally
Commit to change, even if it's difficult and requires time and energy
Rely on a supervisor, mentor, or coach for support
What Happens After 360 Assessments For Hospitals?
All the feedback that's received from a 360 degree assessment is compiled into a report that can be as long as 60 pages. It lists the individual's competencies and skills. The nurse manager's supervisor then meets with him or her to discuss the report.
Based on its findings, the supervisor and manager will create a growth plan. This plan will celebrate an individual's skills and competencies. The report will also provide the nurse manager and his or her supervisor with ideas for goals that will ultimately improve weaknesses and unlock the individual's leadership potential.
To equip these leaders to grow and to help your hospital succeed, consider providing 360 degree feedback assessments. The result is nurse managers and hospital administrators who will guide their team and your facility to achieve better patient care and overall greater success.
Check out these articles for information on 360 degree feedback and leadership assessments:
---