Emerging leaders institutes (ELI's) are high-quality opportunities for rising leaders to develop their skills, network with professionals in their industries, and learn more about what it means to be a leader.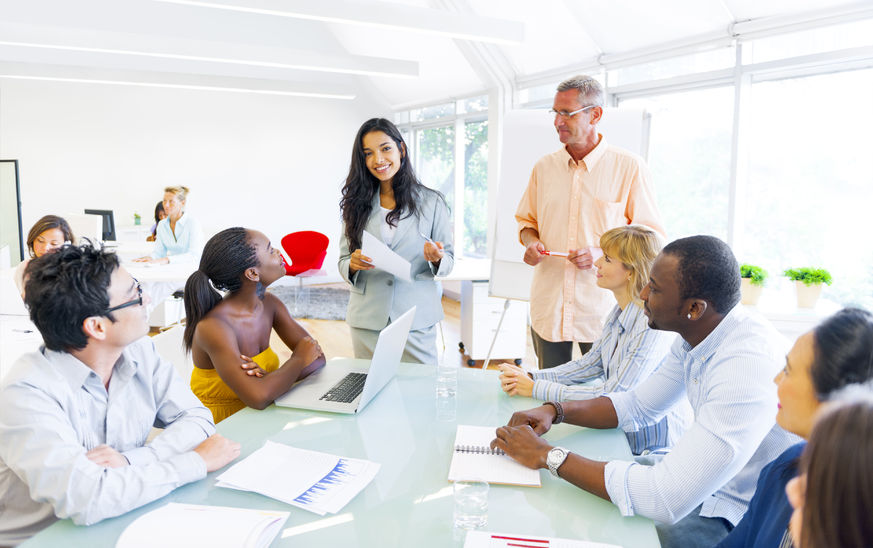 Many organizations provide training opportunities for emerging leaders, whether they are in government, education, or the corporate sector.
These training opportunities are vital to becoming a successful leader, and the more education one can obtain in this area, the better.
Top 7 Emerging Leader Institutes for 2018
We've compiled a list of some of the top emerging leader institutes for 2018. Some of these are specific to their organizations while others are open to all within their sector.
The Kappa Alpha Theta Foundation provides its undergraduate members with many training opportunities, including an Emerging Leaders Institute that takes place during the summer.
The institute's emphasis is on understanding the relationship development involved in leadership, which is a key aspect of what makes leaders successful. They also affirm that emerging leaders are not determined by age, but through experience leading others.
The Kappa Alpha Theta Foundation encourages any of their members to apply for their summer sessions, both of which are held at DePauw University. Each of their July sessions lasts four days.
Kleberg is intended for sophomore and freshman members of Phi Delta Theta, and the program is centered around three pillars. These include:
Purpose
Networking
Leadership
The main goal is to prepare future leaders for the roles they will play in coming years, whether that's in their schooling, in their chapter of Phi Delta Theta, or in the workplace after graduation. They develop skills in leadership, building relationships, risk management, and other areas.
The 2018 institute will be held in Oxford, Ohio this August.
Alpha Phi gears its ELI specifically toward preparing women leaders for the challenges that face them in filling leadership roles.
The aspects of their annual institute include:
Practicing leadership skills, including communication and collaboration with others
Overcoming obstacles in their ascent to leadership roles
Leadership values, such as authenticity, confidence, and integrity
Discovery of personal core values
The institute is designed for freshmen and sophomores in Alpha Phi.
Intended strictly for members of the American Academy of Family Physicians (AAFP), this program begins at the AAFP National Conference of Family Medicine Residents and Medical Students in August of this year. Up to 30 residents and students are chosen for the institute, making it a highly selective program.
The program provides a scholarship for the AAFP National Conference and the FML Emerging Leader Institute held at their headquarters.
The program itself includes education on the following:
Policy
Public health
Leadership practices
Development of personal philanthropic goals
This institute is geared toward government leadership, specifically those who are looking to serve in the Minnesota state government. The program takes two groups of 36 future leaders through a seven-month program beginning in September.
Enterprise Talent Development covers a wide range of topics including:
Minnesota's history
Demographic trends
Ethics and values
Working with the media
The inclusion of people from various backgrounds
Collaboration with others
Effecting change
The Center for Continuing Education in Rehabilitation, or CCER, hosts a nine-day training institute for emerging leaders serving in nonprofit rehabilitation agencies.
Mid- and upper-level managers are taught various aspects of leadership aimed toward these and other objectives:
Increasing understanding of individual differences
Improving self-awareness
Understanding why change occurs in an organization and what may prevent it from doing so
Creating an environment that is conducive to positive change
Recognizing the way an environment can impact leaders
The institute is split into three different sessions, each one lasting three days.
Grantmakers in Health (GIH) created the Terrance Keenan Institute for Emerging Leaders in Health Philanthropy to inspire future leaders in the field.
The program teaches various principles of leadership, including:
Creativity
Critical thinking
Thoughtful use of resources
Respectfulness in working with others
Management skills
Fulfilling leadership responsibilities
Nominees must be active grantmakers in a US health or healthcare related foundation. Additionally, they must be younger than 45 years of age.
Applying to an Emerging Leader Institute
Of course, there are many other emerging leader institutes occurring this year as well as in years to come.
Emerging leader institutes are frequently specific to certain sectors or organizations, so it's typically best to check with your company to see what opportunities are available. Membership in certain foundations or sector-specific nonprofits will often yield these types of opportunities as well.
Learn more about emerging leaders and emerging leaders programs here:
---