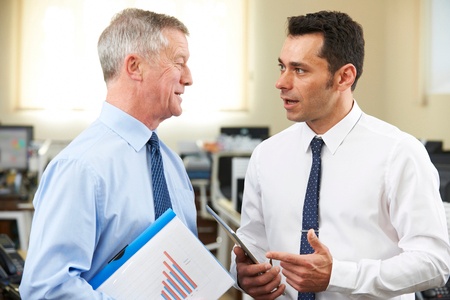 What do Steve Jobs, Babe Ruth, Oprah Winfrey, and Mother Teresa have in common?
They all credit their success to the significant impact a coach or mentor had on their lives.
Even athletes wrought with natural talent recognize their need for a coach, yet very few business leaders consider the impact of coaching on their organizations or even in their own personal and professional lives.
Does your company encourage coaching relationships?
What leadership development coaches do
Your first question might naturally be, what do leadership development coaches do?
It helps to think of business coaches as athletic coaches to help you understand their potential impact on your life or the lives of your leaders:
They help you strategize to solve hard problems; they provide a different perspective and unbiased viewpoints
They lend their expertise in areas where you might be lacking so you are able to make confident decisions despite inexperience
They bring your improvement areas to your attention, help you strategize for growth, and hold you accountable
Perhaps most importantly, they cheer you on, encouraging you, acknowledging you, and validating you
These services are crucial for leaders, who – like athletes – want to improve every day of their career but need honest feedback, insight, encouragement, and recognition.
Even companies that already successfully engage their staff can't possibly provide the same benefits as a true coach.
How to sell leadership coaching to your executive team
While these general contributions sound great, influencing a company to support a leadership development coaching program requires key facts and data. According to a 2014 Executive Coach Survey conducted by the Stanford Graduate School of Business:
Companies who invest in leadership coaches see a return of 7x their investment
58% of executives say the results they achieved when working with a coach can be classified as "excellent"
25% of companies report a return on investment of 10-49x
Almost all leaders report that they want a leadership development coach, but companies who provide coaching are in the minority at just 33%
This means that supporting an leadership development coaching program in your workplace is not only a great financial investment, but a key differentiator when recruiting top talent.
The best candidates for leadership development coaching
Anybody who is dedicated to continuous improvement can benefit from leadership development coaching. In most cases, companies provide coaches for their C-suite employees and sometimes VPs, but there is no limit on who can benefit from coaching within the organization.
Using a leadership development coach is an effective way to get an entry level employee on the fast-track to leadership or help a director prepare for a VP role, and so on.
Selecting the right leadership development coach
Selecting the right coach is critical for a successful exchange. The single most important factor to consider is chemistry between the coach and the leader – while chemistry alone isn't enough to make a coach successful, the leader will never be influenced by a coach if there's no connection.
One of the best ways to measure chemistry is to actually ask the leader, "How do you feel about this coach? Is this the right coach for you?" Most leaders know right away whether they're going to be able to establish a positive and receptive relationship with their coach. If they don't feel confident, other coaches should be interviewed and considered.
Aside from chemistry, a coach should come with extensive leadership experience and the soft skills they're expected to teach and nurture. Here are the qualities to look for.
Communication skills. Coaches rely on their ability to communicate in order to promote change and growth. A great coach should be able to take disorganized information and organize and share it in a confident, powerful way.
Respect. Leaders are more likely to take their coach's insight seriously if they feel valued and respected by them. This respect needs to be invested in every day in order to protect the relationship when it's time to provide constructive criticism.
Emotional intelligence. An effective coach adjusts his or her communication to fit the "student" and unique situation and is able to adjust their approach when necessary. In addition, an effective coach can recognize when emotions might be affecting solid decision-making and intervene accordingly.
Desire to help. You can find out if your coach really loves to coach by asking one simple question: "What is your greatest achievement?" If they become animated and tell a story of a leader or a company they were able to transform through their support, they authentically love what they do and are likely to be personally invested in your success, too.
Continuous improvement. The right coach has to be invested in 1) maintaining and growing their own business knowledge and skills every day, and 2) learning from the person they mentor, which helps establish a healthy and productive relationship.
Adaptability. Most coaches come into a company with experience in business and leadership, but not necessary industry-specific expertise. Great coaches are able to overcome that by adapting what they know to a new industry and by listening to and learning from you. You can screen coaches for their ability to adapt by asking about a time they've consulted for an industry with which they were a novice or unfamiliar.
Does everyone need a leadership development coach?
Let's rephrase that question: does everyone who wants to grow, advance, contribute, and empower their teams need a leadership development coach?
The answer is yes.
Leadership coaches empower leaders to revolutionize their departments, companies, and industries through honest feedback, constructive challenges, and ongoing encouragement. To recap, here are the key takeaways:
The world's most successful people rely on coaches
When companies invest in leadership development coaching, their return is 7+ times their investment on average.
Any leader is a strong candidate for an leadership coaching relationship.
The right leadership coach has a combination of progressive experience, soft skills, and chemistry (and chemistry is non-negotiable).
Every leader dedicated to continuous improvement should have a leadership coach and every company who wants to engage, innovate, and grow needs to invest in leadership development coaching.
How to add the right leadership development coaching
Depending on the different attributes of your business – the number of employees (and leaders), your revenue, your growth plan, etc. – there will be a unique leadership development coaching program that is right for you.
For some, using internal resources, like upper management or HR, will be sufficient to get started with effective leadership development coaching. For others, it's best to leverage outside leadership development coaches in order to get the most benefit from your investment and to provide the most opportunity for you leaders.
Learn about the different leadership development coaching programs available and how to match the programs with the needs of your leaders and your organization – Click here to learn more.
---