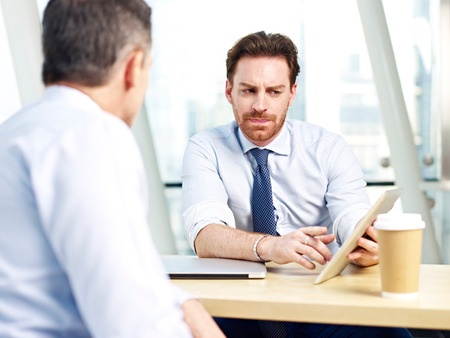 180 degree assessments are designed to gather data from individuals and their supervisors in order to evaluate their strengths and weaknesses.
Both an individual and their supervisor provides specific answers to a series of 180 degree feedback questions regarding the individual's skills and their job performance.
From there, any misunderstandings and discrepancies can be resolved, the individual can receive praise for their strengths, and actionable plans can be made to foster improvement.
The key to an effective assessment is a clear-cut structure and specifically targeted questions.
180 Degree Feedback Questions Test Competencies
First off, it's important for the assessment to be structured.
A structure based on specific questions and clear-cut competencies provides organized data that can be easily used to aid individual development. Without this structure, the data ends up loose and unorganized, making it very difficult to utilize. Avoid common mistakes from companies to get the most out of the 180 degree assessment.
A structured assessment should contain 180 degree feedback questions designed to test the following competencies:
Adaptability
Communication/interpersonal skills
Influence
Negotiation skills
Managing conflict
Customer focus
Problem-solving
Decision making
Teamwork
Self-responsibility
The exact areas depend on the individual. After all, an entry-level sales representative isn't going to need the same competencies as a high-ranking executive.
Administration of 180 Degree Feedback Questions
In a 180 degree assessment, both the individual and their supervisor or manager answer a set of 180 questions. These are done separately, often electronically through a program or internet portal. The data from their responses are gathered and put together into a report, and that report is used to facilitate a conversation between the individual and the supervisor afterward.
Many companies provide ready-made 180 degree feedback assessments, so it's not necessary (and possibly inadvisable) for a company to develop its own test questions.
That said, providers of these types of exams often allow for the addition of customized competencies and questions, so if your company has a specific need, it's worthwhile to consult with them on customization.
Get Pricing For 180 Degree Assessments
180 Degree Feedback Question Samples
The 180 degree feedback questions cover with hard and soft skills, understanding of one's role and responsibilities, and the way the business functions overall.
The types of questions you can expect on the assessment may resemble the following:
What types of leadership qualities does the individual show when interacting with others in the company?
Does the individual inspire growth and development in others?
Does the individual tend to take initiative when confronted with a problem?
How often does the individual inspire others to reach goals?
Does the employee have a positive or negative influence on his or her peers in the company?
In what ways has the employee exhibited a positive/negative influence on others?
Does the employee possess strong, average, or weak negotiation skills?
In what ways has the employee exhibited strong problem-solving skills?
In what ways does the individual communicate effectively with other employees?
How well does the employee perform under pressure?
How adaptable is he/she in difficult circumstances?
Does the individual keep calm under pressure?
Does the individual fulfill all employment responsibilities?
Does the individual act professionally in all interactions with others?
How well does the individual learn from his or her mistakes?
How does the individual rate in terms of focusing on customers?
Does the individual seek out feedback?
How open is the individual to receiving feedback?
Does the employee treat others with respect?
Does the individual contribute to others' abilities to perform well in the scope of their employment?
Does the employee adhere to ethical principles when working?
The phrasing of the questions above is what the supervisor would see. The employee's self-feedback would be phrased to allow them to evaluate their own performance (i.e. "Do you learn from your mistakes?" "How often do you inspire others to achieve their goals?" and so on).
Other assessments may frame each 180 degree feedback question as a statement, such as:
The individual sets a clear vision for others to follow.
The individual treats others with respect.
The individual is ethical.
These are then rated on a scale of how true or false they are, such as a rating from "never" and "almost never" to "almost always" and "always."
This method provides a more quantifiable rating of how the individual performs, thereby making the end report a valuable tool in determining the individual's competencies.
Reporting From 180 Degree Feedback Questions
Once both the individual and their supervisor have completed the assessment and 180 degree appraisal, the answers are compared and the differences between the scores are determined.
Areas where the individual rated themselves higher or lower than the supervisor make for excellent talking points.
For instance, if the employee rated themselves lower on their communication skills than their supervisor did, this would give their supervisor an opportunity to help bolster their confidence.
On the other hand, if the individual rated their ability to handle responsibility higher than their supervisor did, it allows for a discussion on what that individual's responsibilities entail and how they can improve.
When used well, the questions on a 180 degree assessment can provide valuable data that enable organizations to train and develop more successful employees.
Keep Reading: 180 Degree Feedback Examples
You may also be interested in these articles related to employee assessments:
---